Insulated vinyl siding is starting to gain in popularity due to its energy efficiency, maintenance freedom and new and improved looks.  Take a look at our gallery and the below article.
Custom Home Builder Uses Insulated Vinyl Siding for Model Homes
By: Lauren Higl
We sat down with Paul Schumacher of Schumacher Homes to learn why the largest home builder in the country chose to feature insulated vinyl siding on their model homes.
____________________________________________________
"Hi, I'm Paul Schumacher of Schumacher Homes. Schumacher Homes is the largest custom home builder in the country. Unlike typical home builders, all of our model homes are located in highly visible retail locations. We like to think of it as a Parade of Homes 365 days a year.
It's essential for us to show the latest and greatest in our building products and materials to our customers who are coming through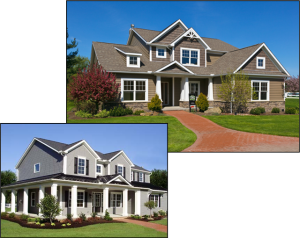 on a daily basis. Let's face it, people are very visual, so it's very difficult to look at a small product chip and envision what it's going to look like on their home. Seeing it in a real life setting on the actual home, people can get a feel if that's the look and the style of the material that they want on their home.
When it comes to siding in particular, a lot of people ask aboutcement siding because they like the look of it, however they don't like the drawback of the maintenance part of it. That's where we sit down and educate people on all their options. They can go with a vinyl siding product that has the same look of the cement siding but also has the added benefit of completely maintenance free as well as the energy efficiency of the foam-backed product, so then you get the best of both worlds. You get the look and the feel and the energy efficiency with no maintenance."
For more info about insulated vinyl siding, click here.