Northern California's Leading Siding Company
Quality Siding and Exterior Renovations by 3 Generations
3 Generations Improvements is California's favored provider of quality siding installation and exterior renovation services. As a family-owned and operated company, we are dedicated to providing only the highest quality products and services to our customers in Petaluma and Northern California. Our company boasts more than 150 combined years of experience in siding, windows, and a host of other exterior remodeling services. With 3 Generations, our customers know that they are working with the best and brightest minds in the industry. All of our projects are treated like our family home, because for us it's not just your home, it's our legacy.
Meet the First Generation, Bob Owens
3 Generations co-founder and Product Manager Bob Owens is the heart of our company. Starting in 1956, with a position as a sales representative at siding company Alsco, Bob began laying the foundation for the future of 3 Generations. Over the course of the next two decades, Bob grew his knowledge and expertise until he gained prominence as Alsco's VP of Sales and marketing in 1978. His dedication to providing superior quality renovation solutions informed the next step in his evolution: starting his own home improvement company.
In 1978, Bob joined his son Kurt on a venture to establish their first home improvement business, Owens Western Builders, in Spokane, Washington. Bob brought his decades of knowledge, experience, and professional connections, along with a commitment to provide the highest quality products and services. In 3 Generations, you see the culmination of Bob's experience and dedication to providing superior products and services to customers across Northern California.
When he isn't working, Bob likes to spend time with his wife of 64 years, Patricia, not to mention his 4 children, 8 grandchildren, and 14 great-grandchildren. Bob can often be found fishing and enjoying the great outdoors on his days off.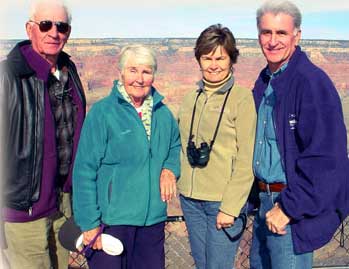 Meet the Other Members of the 3 Generations Family!
3 Generations Improvements carries more than 150 combined years of experience in siding and exterior renovations. Our family team of seasoned experts combines product knowledge, installation experience, and project management into a company that comes second to none in Petaluma and Northern California.
Our family-owned and operated company is the result of decades of experience with siding, windows, doors, and a broad range of other home improvements. The 3 Generations experience began in 1956 with Bob's first job as a siding and windows sales representative. When his son Kurt joined the industry in 1975, it was only a matter of time before they became partners in their first home improvement company, Owens Western Builders. Our third generation, Jeremy, followed in his father's footsteps with a career in siding and windows that started in 2002. He was soon joined by his childhood friend, 3 Generations project manager Logan Smith. With decades of experience combined, we were able to create California's most trusted siding company, 3 Generations.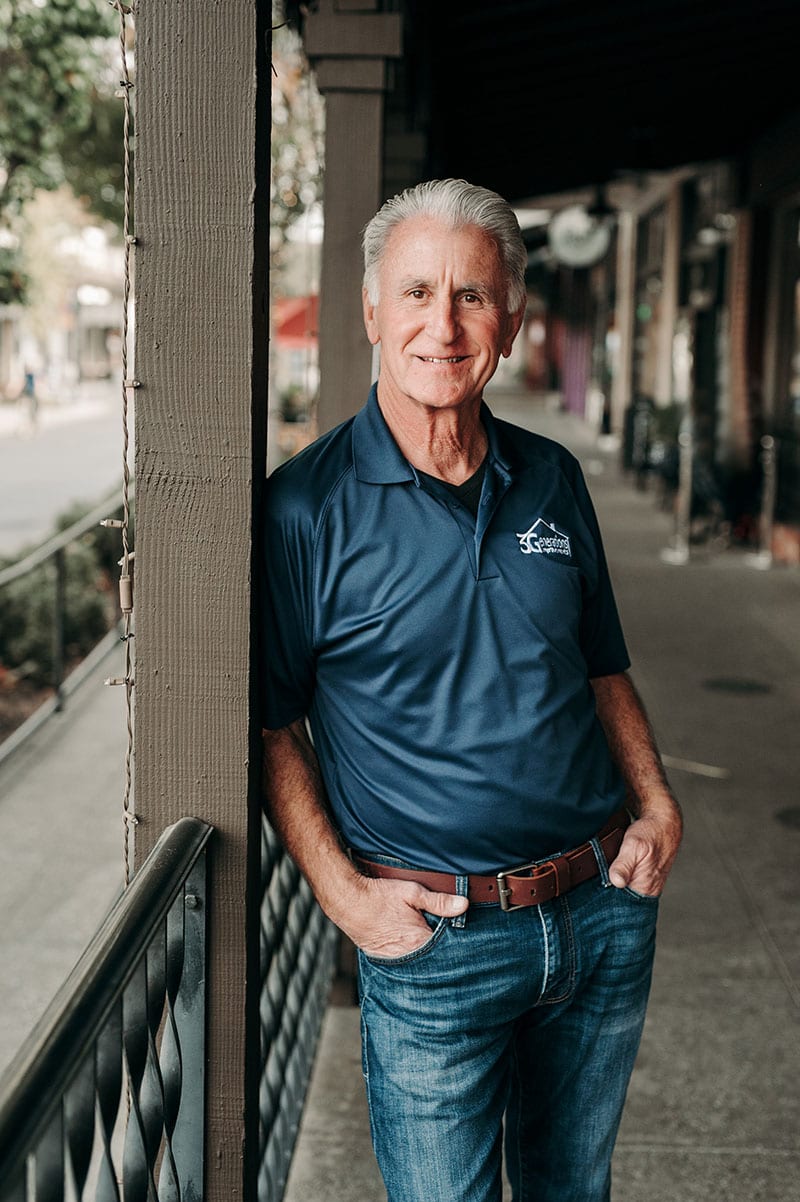 Kurt Owens
3 Generations President and co-founder Kurt Owens started out in home improvement in 1975. He has spent the following decades building a name in the industry that is synonymous with integrity and exceptional customer service. Over the past 30 years, Kurt has participated in the installation of siding and windows on over 600 homes in Northern California, at least 300 of which were projects derived from referrals. Kurt works closely with his son Jeremy, handling many of the calls and consultations at 3 Generations. 
When Kurt isn't working, he spends time with his wife of 42 years, Joanie, or one of his 6 grandchildren. His favorite pastime is babysitting the grandkids, but like his father, he also enjoys spending time outdoors.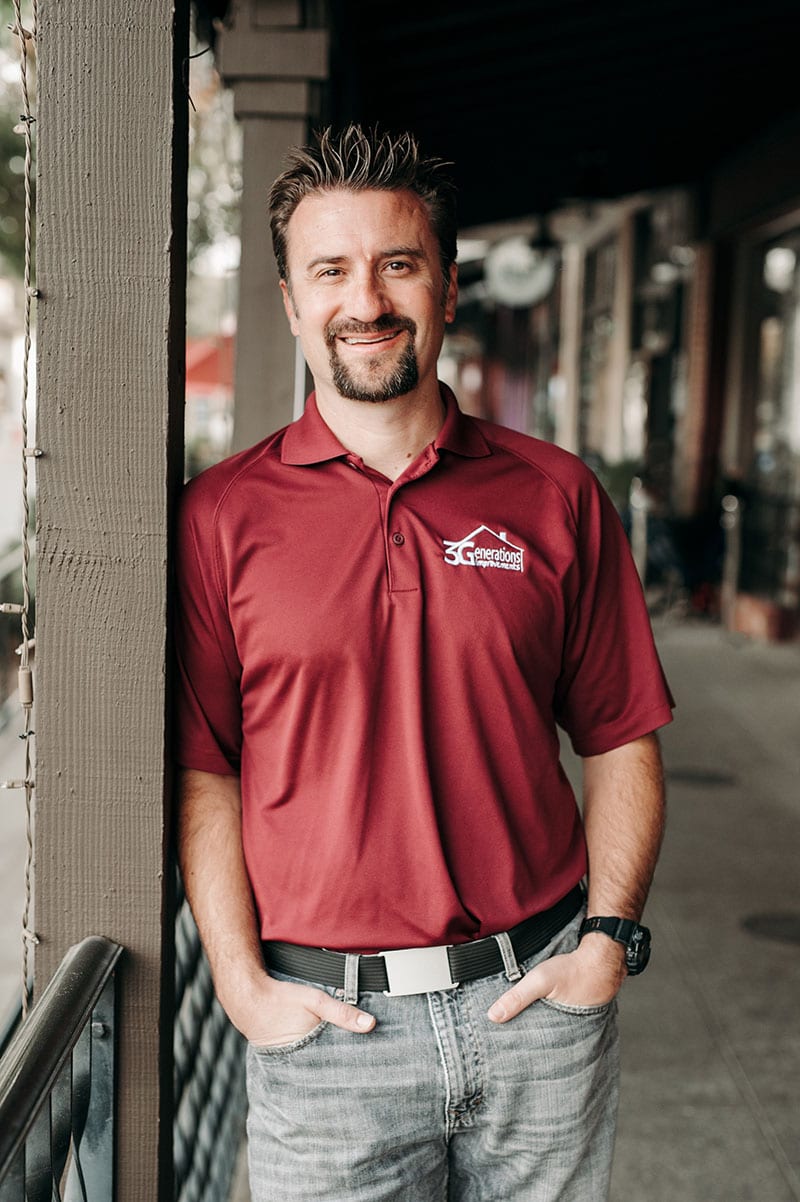 Jeremy Owens
Our Vice President, Jeremy Owens, is also our third generation at 3 Generations Improvements. He grew up surrounded by the home improvement industry, so it is no surprise that he joined the family business. When he completed his Bachelor of Science degree in 2002, Jeremy went straight into operations management at Alside, a Sacramento-based siding and windows manufacturer. He soon combined his experience with his father and grandfather to create 3 Generations. Jeremy is the face that most customers see and the voice that they hear when customers call or stop by with questions and project inquiries. When he isn't fielding calls from our clients, Jeremy is in contact with our manufacturers and suppliers, ensuring that we have everything we need for each and every project. 
Jeremy enjoys spending time with his wife, Valerie, of 17 years and his 3 kids; Aubrey, Shelby, and Andrew. Jeremy also enjoys sports, coaching, friends and the outdoors! See this blog post with a family update!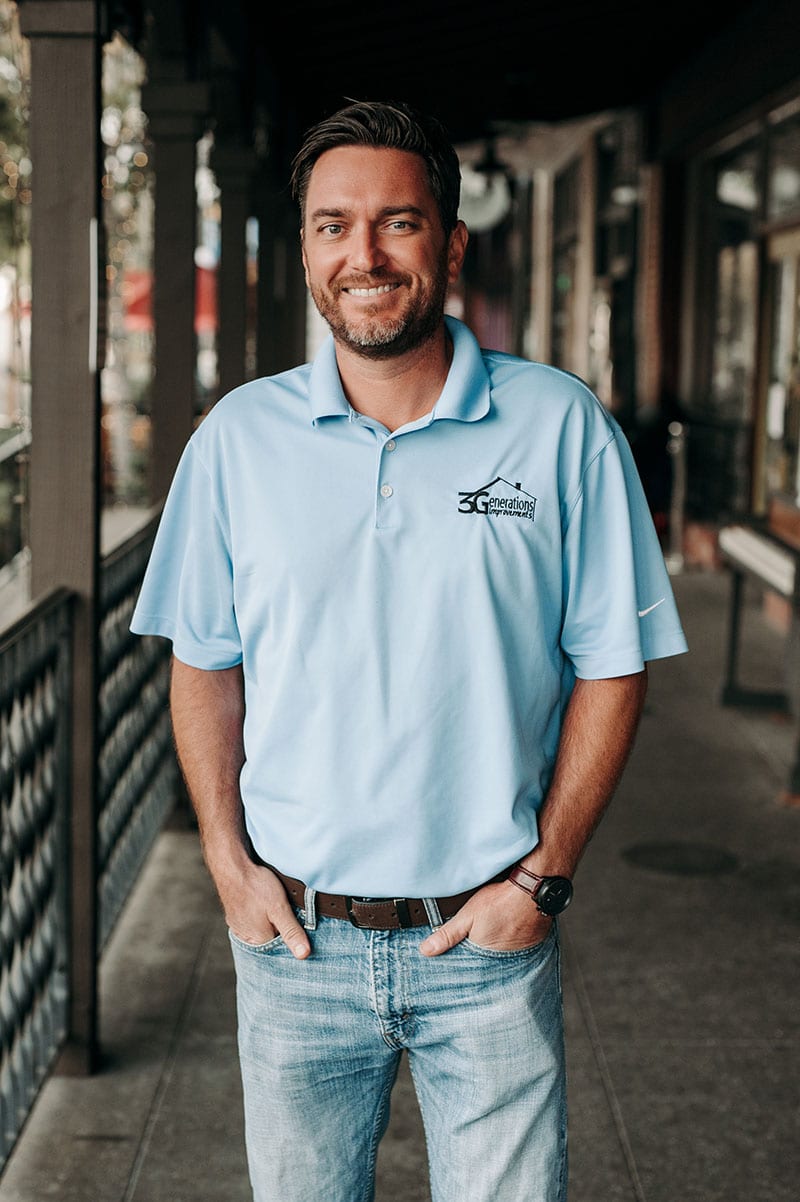 Logan Smith
Logan Smith has been close friends with Jeremy for over 25 years, which makes him family. After spending their childhood together, Logan and Jeremy were best friends through high school, and Jeremy even served as a groomsman in Logan's wedding. When Logan joined 3 Generations as a Project Manager, we knew our leadership team was complete. Logan started his work in the industry after graduating from college in 2003. His experience as a project manager at Delta Construction included managing full construction and landscape crews for commercial and residential projects. A true team player, Logan is never happier than when he's on site working to complete a project.
When he's away from the job, Logan spends time with his wife Lissa and his daughters Kylie, Aidie, Maizie, and Pennie. He especially enjoys canoe rides with the family, playing golf, and watching football.
Exceptional Siding and Home Improvement Services in Petaluma, Folsom & Northern California
3 Generations Improvements is a full-service company providing siding, windows, doors, and decking to customers throughout Northern California. Our extensive experience sets us apart from other siding companies and allows us to install a variety of exterior products and materials quickly and efficiently, for a beautiful flawless finish you can enjoy for years to come. Our comprehensive selection of exterior installation and renovation services include siding installation, windows and doors, and decking and railing.
Siding is one of the most critical aspects of your home. It protects you from heat, cold, wind, rain, and snow while providing a unique and beautiful envelope for your home. Our comprehensive selection of siding materials includes nearly every siding material available, from fiber cement and wood to polymer, vinyl, stone, and stucco. To see our full portfolio of siding products and services, take a look at our Siding Pages.
Enhance your home's interior and exterior appearance with new doors and windows. Our Energy Star rated doors and windows improve your visibility and security while providing maximum protection from the elements. To learn more about our extensive selection, visit our Windows and Doors Page.
Add the finishing touch to your residential exterior with composite, redwood, or vinyl deck installation. Customize your design with glass, iron, cable, or composite railing for a unique look that you will love. 
For more information about our deck and railing services, visit our Decks Page.
For more information about our comprehensive installation and renovation services, visit our Services Page.
Marvelous Residential Siding and Renovations in Petaluma, CA and Northern California
3 Generations is California's premier home improvement provider for everything from wooden and vinyl siding to stucco, decking, doors, and windows. Our broad service area extends throughout Petaluma and Northern California. Don't see your area? Contact our experts by email or call (877) 932-2315 to discuss service in your neighborhood.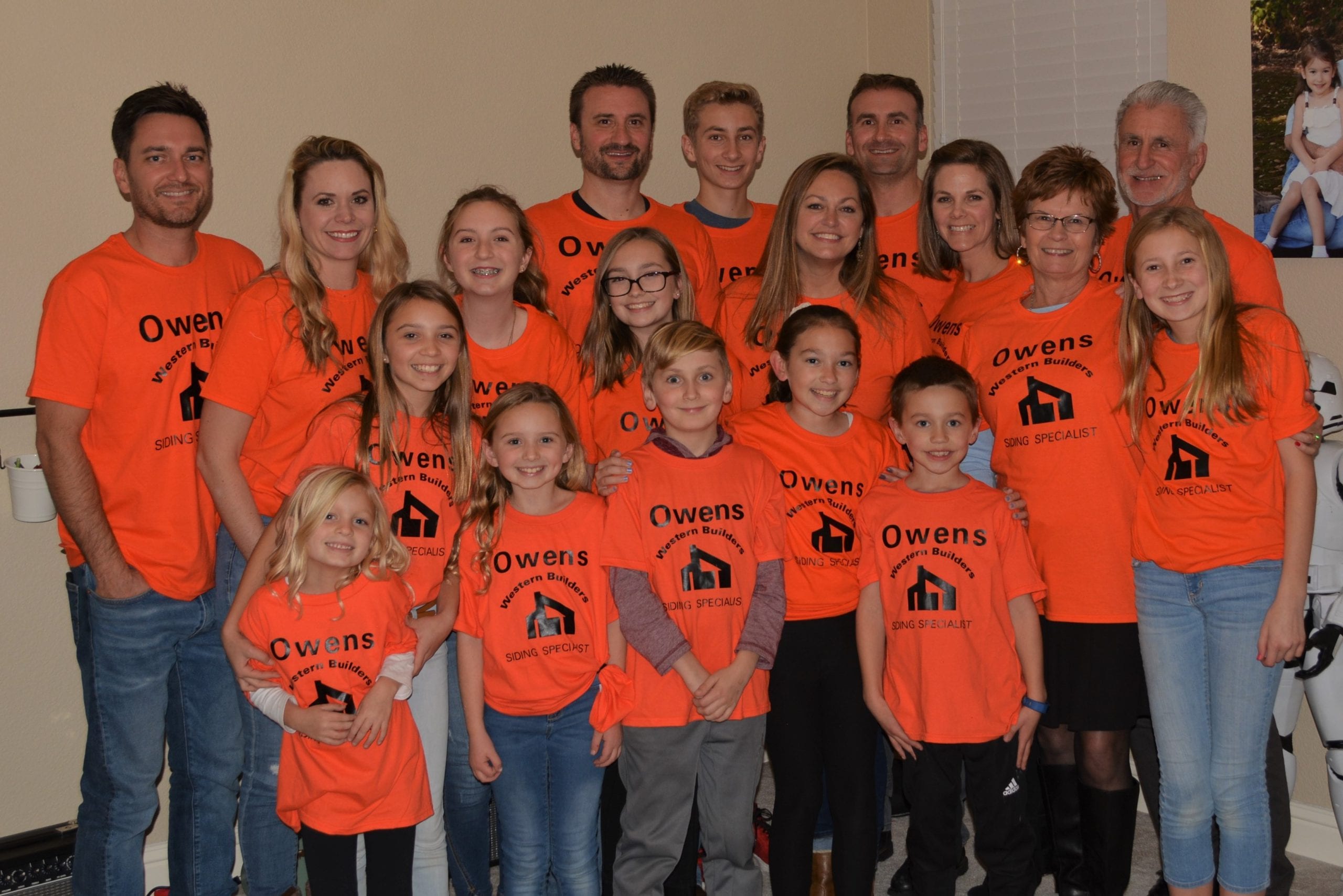 Enjoy Weekly Pay and a Growth-Oriented Family Culture When You Join Our Team
At 3 Generations, we are committed to providing the highest level of professional service for our customers throughout Petaluma, California and surrounding areas. We understand that reputable service and integrity start with our employees. If you are an experienced, customer-oriented renovation and construction professional who understands the importance of community, loyalty, and quality, we may have the perfect position for you. Visit our careers page to learn about open positions available at 3 Generations, and join the family!
Petaluma, California's Favorite Family-Owned Siding Company
As a family-owned and operated business, 3 Generations offers only the best quality siding, windows, and doors, with exceptional service and professionalism. We pride ourselves on a job well done, and it is our goal to ensure that our customers come home every day to beautiful, long-lasting siding and renovations that they love. To learn more about 3 Generations products and services, contact us today or call (877) 932-2315