Award reflects company's consistently high level of customer service
3 Generations Improvements has earned the service industry's coveted Angie's List Super Service Award, reflecting an exemplary year of service provided to members of the consumer review service in 2013.
"To win this award for the second year in a row is exciting to us because it means we are on the right track with our customer service.  To be honest, customer service is not a decision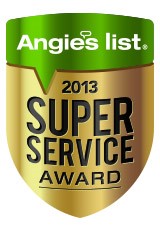 that we have to make, it is more of a way of life for our business.  One of the main reasons why we decided to keep our business as entirely family and close friends is because we know without a shadow of a doubt that we are all in this business together and we all share the same passion and commitment to our business and our customers," stated Jeremy Owens, Vice President of 3 Generations Improvements.  "Although we absolutely love what we do and are excited about our future as a business, we know that our success is only possible because our customers trust us with their homes and we never want to lose sight of how important that trust is."
"Only about 5 percent of the companies 3 Generations Improvements competes with in Northern California are able to earn our Super Service Award," said Angie's List Founder Angie Hicks. "It's a mark of consistently great customer service."
Angie's List Super Service Award 2013 winners have met strict eligibility requirements, which include an "A" rating in overall grade, recent grade, and review period grade; the company must be in good standing with Angie's List, have a fully complete profile, pass a background check and abide by Angie's List operational guidelines.
Service company ratings are updated daily on Angie's List. Companies are graded on an A through F scale in areas ranging from price to professionalism to punctuality. Members can find the 2013 Super Service Award logo next to company names in search results on AngiesList.com.
###
Angie's List helps consumers have happy transactions with local service professionals in more than 720 categories of service, ranging from home improvement to healthcare. More than 2 million paid households use Angie's List to gain access to local ratings, exclusive discounts, the Angie's List Magazine and the Angie's List complaint resolution service.