In the August 2014 issue of Remodeling Magazine they completed their annual list of the biggest remodeling companies in the U.S. and 3 Generations Improvements is now ranked #142 in the Replacement Contractor category.  We are so proud to be recognized nationally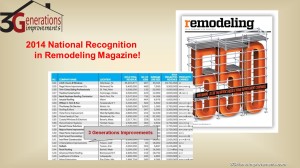 – hard work does pay off!
See the article from the magazine below.
The 2014 Remodeling 550
The biggest remodeling companies in the U.S. reveal their sales, jobs, and prospects
Few industry pyramids have as wide a base and narrow a top as remodeling. Census reports suggest that two-thirds of America's roughly 650,000 remodelers are self-employed. Only 90,000 companies of any size have a payroll. And if past trends hold, no more than one out of six of those take in a million dollars a year.
The 550 companies on this year's list occupy the very top of the pyramid. For the vast majority of them, 2013 was a decent year and 2014 looks to be a great one. Revenue for full-service companies dipped just 0.3% from 2012 to total $1.09 billion, but those same companies are looking for a 35% revenue rise this year to $1.48 billion. Replacement contractors did much better, having gone up 8.1% last year to hit $2.35 billion, but they are a tad less optimistic about this year, predicting an 11.9% gain.
Many full-service remodelers would rather have a few big-dollar projects than a host of small-dollar ones. Our latest numbers indicate that the average value of a job has continued to drop since 2010 and is far lower than it was when the housing market was as its peak. But at least the number of jobs rose again.
Our 550 consists of four lists:
Full-service remodelers—general contractors that typically focus on home additions and alterations.
Replacement contractors—contractors that usually specialize in exterior home components such as roofing or siding.
Franchise operations—companies such as CertaPro Painters or Re-Bath, which can be a point of entry for entrepreneurs who lack construction experience or, in some cases, a sideline for established remodelers or tradesmen.
Insurance restoration businesses—companies that rebuild homes following fire, flood, or other disaster, with insurers footing the bill.
How We Did It
Data for the list came primarily from a Web-based survey we developed. Project manager Amy Wiersum led the effort, while intern Chelsea Blahut did much of the cleanup and data analysis. The Farnsworth Group, a consultancy and business-data collection provider in Indianapolis, programmed and hosted the survey and compiled the data. Additional information was obtained by REMODELIN